Silat Melayu Dance of North Kayong Regency, Indonesia
---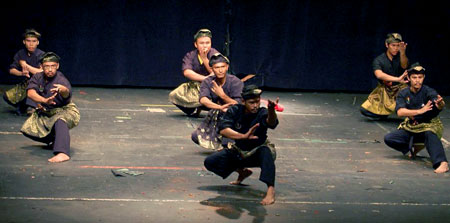 One of the forms of culture is none other than traditional dances. In North Kayong Regency, for example, tourists can find a unique dance called Silat Melayu. To be exact, it derives from Malay culture and has been adapted to local values. "Silat" is a kind of local martial arts, actually. This explains why the dance involves several martial movements. For locals, it has become a regular performance and entertainment throughout generations. For tourists, the dance becomes a new attraction for them to enjoy during a vacation in West Kalimantan Province, Indonesia.
The Nuance
As mentioned before, Silat Melayu Dance features martial movements, which make it different than other traditional dances. All dancers are male and they wear black outfits with a sarong as well. Not to mention they wear a traditional cap which looks unique! Not only mature dancers, boys also join the dance sometimes. The thing is they wear red outfits instead of the black ones. When it comes to accompaniment, some musicians use traditional instruments to accompany the dance! What about the stage? Well, it can be anywhere including an indoor and outdoor grandstand.
Enjoying Silat Melayu Dance
In a nutshell, Silat Melayu Dance enlivens martial movements and focuses the energy to both muscles and joints. No wonder, the dancers look both powerful and swift when performing it. Aside from being one of the best entertainments in West Kalimantan Province, the dance also offers an interesting history to tourists. It is said the dance was performed only during the inauguration of a village head, Malay traditional wedding ceremonies, and receptions of state officials. These days, though, the dance simply becomes a local entertainment and it is performed regularly in almost all villages.
As the time goes by, Silat Melayu Dance keeps attracting outsiders and tourists. Most of them are interested in the unique movements of the dance, after all. The thing is the audience may find various combinations of it. These include popat, concang, tikam, simbuh, and toga kali. Each of them has a meaning, so tourists should get the information from the local guide. They can even buy the books that explain thoroughly about it later.
It is quite fortunate that tourists are allowed to take pictures during the performance, as long as they don't use the flash (that may disturb the dancers). Another recommended thing to do is to learn a little bit about the moves from the dancers! It requires a good communication skill and a perfect time to get such opportunity, though. Once again, the help of a local guide can be a good solution to it.
Nearby Attractions
Genta Hill
Bali Village
Air Paoh Natural Spring
Pasir Mayang Beach
Pulau Datok Beach
Durian Monument
Tambak Rawang Beach
How to Get There
The best place to watch Silat Melayu dance is definitely North Kayong Regency in Indonesia. In this case, the trip may take about 5-6 hours from Pontianak City. Once arriving at North Koyong, it is better to head to Sukadana right away through Ahmad Yani Street.
Where to Stay
Aulia Inn
Kapuas Kayong Inn
Anugrah Hotel
Mahkota Hotel

Latest News
Indonesia is a country of Bhinneka Tunggal Ika, where there are many provinces inhabited by various ethnic groups. Not only the culture and cuisine are different, the traditional house designs of each province are also different. Traditional house designs have their own philosophy and function. It's no wonder that none of the designs are exactly the same, including the West Kalimantan traditional house belonging to the Dayak tribe named Rumah Radakng. Radakng's house is often also referred to as a long house. This term really describes the state of a…
---
Temajuk marks the point where Indonesia ends and Malaysia starts. Not yet known to many domestic and international travellers, Temajuk Village features a tidal beach with soft, white sands dotted with granite rocks. Underwater sightseeing is made possible as the water is clear. Temajuk beach, actually running at a very long 60 km of coastline, is a tidal coast area featuring soft, white sand and preserved environment. One thing that differs this beach from Balinese beaches is portruding granite rocks distributed evenly throughout the coastal environment. In places, granite rocks…
---
Sinka Island Park Singkawang is a small town in the west Kalimantan, but there are many interesting tourism inside the town. One of popular destinations in Singkawang is Sinka Island Park; there is a zoo which has many kind of animals and a recreational park family vacation and playground for children. Sinka Island Park is located in " kelurahan sedau", " kecamatan Singkawang selatan", around 9 km from Singkawang center. To reach this park, from Singkawang center you can go to there by bus, motorcycle, and our personal vehicle. In…
---
Pontianak Pontianak is officially the capital city of West Kalimantan province, the ethnic of Tionghoa call this city as Khun tien. This city is famous as the City of Equatorial for it passed by the earth zero degrees latitude. The name of Pontianak was belived had something to do with the folk tale about Syarif Abdurrahman which was haunted by the ghost of Kuntilanak when he walked along the 1.1 megameter Kapuas River, which is the longest river in Indonesia. Abdurahman Sharif had fired the cannon to drive away the…
---