Palung Mountain National Park in Ketapang Regency - Indonesia
---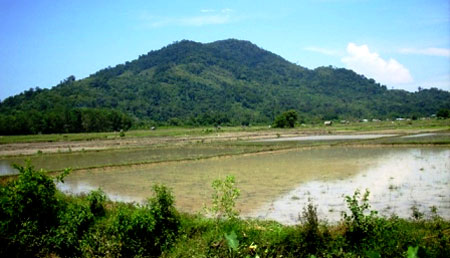 People who live in Ketapang and North Koyong Regency should be proud of Palung Mountain National Park. Such grandiose mountain has become the pride of West Kalimantan Province as well, in fact. The location is in Padu Banjar Village and it is part of Simpang Hilir Sub-District. Over time, tourists keep coming to the site and enjoy an adventure with their families. These include trekking, exploration, photography, and sightseeing. In terms of popularity, it is the best and widest tropical forest located on Kalimantan Island, Indonesia. No wonder, lots of outsiders and foreigners have been visiting the mountain as well.
The Nuance
All tourists would be surprised by the grandeur of Palung Mountain National Park Indonesia. It has the total size of 90,000 hectares and offers a complete biodiversity. That means visitors would find numerous natural attractions including a tropical forest, mangroves, peat swamp, mountain forests, and many more. From afar, the mountain looks majestic and it is often covered by fog as well. What is more? According to the locals, more than 60% of the landscape is unspoiled and it becomes the home of tons of wild animals and plants.
Exploring Palung Mountain National Park
The first popular activity for tourists to enjoy in Palung Mountain National Park is none other than exploration. During the activity, they may encounter several types of plants and trees for sure. These include medicinal plants, ironwood, resin, ramin, and many others. The most attractive plant, perhaps, is the famous Coelogyne Pandurata or black orchid. However, it only blooms between February and April, so tourists should come at the right time to witness such beautiful flower. As for the location, these plants usually grow near to Matan River.
Aside from the flora, Palung Mountain National Park is also famous for its fauna. It is said more than 35 types of mammals and 190 types of birds live there. According to the locals, almost all types of Kalimantan's birds are available on this mountain! During trekking, though, tourists may highly encounter several types of creatures like Orangutan, roes, honey bears, and chipmunks. Despite the cute appearance, they seem afraid of strangers. Thus, don't make rush movements or these animals may hide right away.
Even though Palung Mountain National Park features lush environment, it is suitable for an adventure (even for beginners). Thanks to reliable facilities and management. Everyone can explore the site in a comfortable manner! When it comes to facilities, tourists can find a research center, guard posts, viewing posts, small cottages, footpaths, etc.
Nearby Attractions
Genta Hill
Bali Village
Air Paoh Natural Spring
Pasir Mayang Beach
Pulau Datok Beach
Durian Monument
Tambak Rawang Beach
Lubuk Baji
How to Get There
For those coming from Pontianak City (the capital of West Kalimantan Province), they can take any local transportation service and head to either Ketapang or North Koyong Regency, Indonesia. Next, they only need to visit Simpang Hilir Sub-District and head to Padu Banjar Village. The whole trip may take about 5 hours and 50 minutes, as the distance is 295 km! As for the best route, tourists can take Ahmad Yani Street.

Where to Stay
Aulia Inn
Kapuas Kayong Inn
Anugrah Hotel
Mahkota Hotel