Pasir Mayang Beach in Sukadana Sub-District, Indonesia
---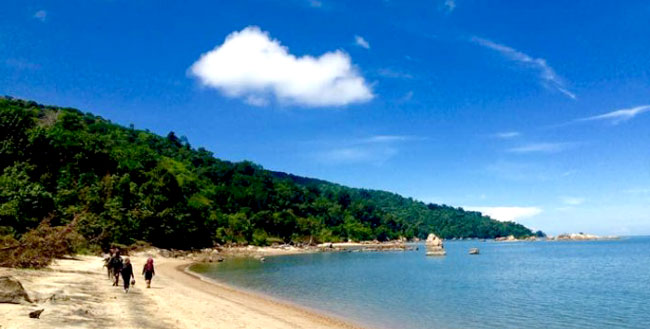 It seems tourists need more than a day in order to visit top beaches of North Kayong Regency. Regardless of the time of visit, they must never miss Pasir Mayang Beach. The location is in Pampang Harapan Village and it belongs to Sukadana Sub-District. It is true that each beach has unique characteristics. What about Pasir Mayang? Well, it is famous for its beautiful landscape, which makes it a perfect place to collect excellent pictures of nature. Most visitors also enjoy beach walking and sightseeing when spending a good time there.
The Nuance
When it comes to natural features, Pasir Mayang Beach is known for its soothing sunset. Not to mention it has comforting soft-textured white sand, coming with big rocks scattered on the shoreline. In terms of nuance, it is both peaceful and refreshing. Due to such unspoiled environment, visitors may spend hours to enjoy photography and relaxation. The best time to visit the site is definitely in the afternoon before the sunset! For a more serene atmosphere, tourists should come during working days though. It is because more tourists are seen both during holidays and weekends.
Exploring Pasir Mayang Beach
Located near to a nearby fishermen settlement, Pasir Mayang Beach becomes more attractive to tourists. That means visitors can witness fishermen's activities while exploring the beach later. They can even buy fresh fishes and eat some seafood with them! Plus, there is the chance to join the locals to catch fishes in the sea. In this case, tourists should come with a local guide so they are able to communicate with villagers easily. It is a good thing if they have already learned the Indonesian Language, though.
Aside from approaching local fishermen, tourists can witness stunning views of the sea! The fact is that Pasir Mayang Beach features soft-textured flawless white sand! It becomes the best place for beach walking and building sand castles with families. On top of that, the waves are calm and safe for swimming! That means even kids are allowed to play in the water, as long as they are under parents' supervision. Also, they should only swim in the shallow parts of the shoreline in order to avoid troubles.
With the size of 100 hectares, Pasir Mayang Beach definitely can accommodate many visitors. It doesn't matter if tourists come either during weekends or holidays. The nuance becomes merrier with more visitors, after all. Perhaps the most crowded time is in the evening when a beautiful sunset appears. Later, at night, tourists are even allowed to build a tent and spend a night there (camping).
Nearby Attractions
Datok Island
Riau's King Tomb
Genta Hill
Bali Village
Air Paoh Natural Spring
Pasir Mayang Beach
Gunung Palung National Park
Durian Monument
Pulau Datok Beach
Tambak Rawang Beach
Mandale Hill
How to Get There
From Pontianak City, a trip to Pasir Mayang Beach may take around 9 hours as the distance is 445 km. First, they need to reach Sukadana Sub-District. Later, they only need to visit Pampang Harapan Village and get to the beach right away. Have no worries. The trip can be faster if they take Ahmad Yani Street.
Where to Stay
Aulia Inn
Kapuas Kayong Inn
Anugrah Hotel
Mahkota Hotel