Mandale Hill in Sukadana Sub-District, North Kayong Regency - Indonesia
---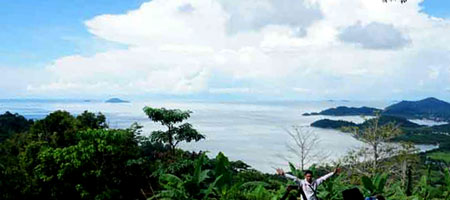 West Kalimantan Province becomes famous among tourists due to the presence of Karimata Archipelago. It is true, but other beautiful natural attractions also reside there including Mandale Hill. The location is in Gunung 9 Village and it belongs to Sukadana Sub-District, North Kayong Regency. Not to mention the hill is the part of famous Palung Mountain National Park! It has been visited by both locals and outsiders over time, especially those who want to enjoy trekking and sightseeing. Also, the hill becomes a perfect place to spend a family vacation.
The Nuance
In terms of nuance, Mandale Hill offers fresh air and breathtaking panorama. The trekking route is considered easy, so tourists can get to the top of the hill without hassles. Another feature is that the hill provides a suitable spot for camping. What is more? Numerous trees and plants grow all over the landscape, providing a comfortable atmosphere to the site. In a nutshell, the hill is quite similar to that of West Java's Puncak! The good thing is that several young men manage and take care of the hill, so visitors can rely on their services during the exploration.
Exploring Mandale Hill
As mentioned earlier, Mandale Hill has a similar nuance to Puncak. That means visitors can enjoy stunning natural scenery once reaching the top of the hill. For example, the view of Sukadana City is seen clearly up there. These include the grandiose Oesman Al-Khair Mosque located on the seafront. With these impressive natural views, visitors can enjoy both sightseeing and photography. Therefore, everyone should never leave their camera behind when visiting the hill. Even they can conduct selfies up there!
The next allure of Mandale Hill is the presence of a type of bird called "Enggang" (Hornbill). The hill is known as the habitat of such species of birds, after all. No wonder, this protected species has become a wonderful attraction for those who visit the hill. What about other animals? Have no worries. Visitors may see other exotic faunas including red-beak Hornbill and Kelasi (Maroon leaf monkeys). One thing, these animals only appear at a particular time so tourists should come at the right time. According to the locals, the best time to visit is during sunrise and before sunset.
Later, before going home, tourists should drop by in Gunung Sembilan Village (located near to Mandale Hill). There, they can enjoy a warm cup of coffee and eat local fruits like bananas and durian. Don't forget to buy some as souvenirs!
Nearby Attractions
Datok Island
Riau's King Tomb
Genta Hill
Bali Village
Air Paoh Natural Spring
Pasir Mayang Beach
Gunung Palung National Park
Durian Monument
Pulau Datok Beach
Tambak Rawang Beach
Oesman Al-Khair Grand Mosque
How to Get There
From Pontianak City, tourists' first destination is North Kayong Regency. Next, they need to head to Palung Mountain National Park in Sukadana Sub-District. The last thing to do is to visit Gunung 9 Village and conduct trekking to the top of Mandale Hill. This whole trip may take about 9 hours and 20 minutes, as the distance is 445 km. For a faster trip, it is recommended to take Ahmad Yani Street.
Where to Stay
Aulia Inn
Kapuas Kayong Inn
Anugrah Hotel
Mahkota Hotel

Latest News
Indonesia is a country of Bhinneka Tunggal Ika, where there are many provinces inhabited by various ethnic groups. Not only the culture and cuisine are different, the traditional house designs of each province are also different. Traditional house designs have their own philosophy and function. It's no wonder that none of the designs are exactly the same, including the West Kalimantan traditional house belonging to the Dayak tribe named Rumah Radakng. Radakng's house is often also referred to as a long house. This term really describes the state of a…
---
Temajuk marks the point where Indonesia ends and Malaysia starts. Not yet known to many domestic and international travellers, Temajuk Village features a tidal beach with soft, white sands dotted with granite rocks. Underwater sightseeing is made possible as the water is clear. Temajuk beach, actually running at a very long 60 km of coastline, is a tidal coast area featuring soft, white sand and preserved environment. One thing that differs this beach from Balinese beaches is portruding granite rocks distributed evenly throughout the coastal environment. In places, granite rocks…
---
Sinka Island Park Singkawang is a small town in the west Kalimantan, but there are many interesting tourism inside the town. One of popular destinations in Singkawang is Sinka Island Park; there is a zoo which has many kind of animals and a recreational park family vacation and playground for children. Sinka Island Park is located in " kelurahan sedau", " kecamatan Singkawang selatan", around 9 km from Singkawang center. To reach this park, from Singkawang center you can go to there by bus, motorcycle, and our personal vehicle. In…
---
Pontianak Pontianak is officially the capital city of West Kalimantan province, the ethnic of Tionghoa call this city as Khun tien. This city is famous as the City of Equatorial for it passed by the earth zero degrees latitude. The name of Pontianak was belived had something to do with the folk tale about Syarif Abdurrahman which was haunted by the ghost of Kuntilanak when he walked along the 1.1 megameter Kapuas River, which is the longest river in Indonesia. Abdurahman Sharif had fired the cannon to drive away the…
---