Karimata Islands in North Kayong Regency, West Kalimantan - Indonesia
---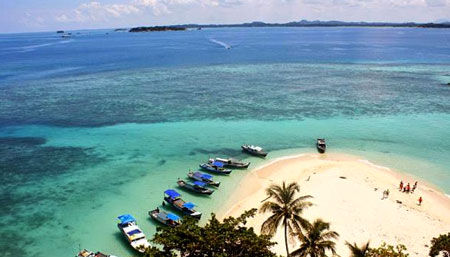 Located in the midst of Karimata Strait, Karimata Islands should be tourists' favorite destination when visiting West Kalimantan Province, Indonesia. In terms region, it is part of North Kayong Regency, actually. Also, it resides between Sumatra and Kalimantan Island. That means tourists can reach the site from those big islands! Not only it offers a wonderful landscape, the islands are worth numerous tourist activities including island hopping, recreation, photography, and exploration. Plus, tourists keep coming in order to enjoy snorkeling and diving. This is why the archipelago gets a better popularity over time.
The Nuance
In terms of size, Karimata Islands has the width of about 77,000 hectares. Have no worries. It is an inhabited archipelago (populated by more than 1000 people), so tourists can easily find good services and accommodations when visiting the islands. The most attractive feature of the islands is none other than its marine beauty, which makes it a potential marine reserve. It consists of two big islands called Seruty and Karimata. Not to mention smaller islands reside, including Belian, Buluh, Kelumpang, Busung, Genting, Segunung, Kera, and Serungganing.
Exploring Karimata Islands
Island hopping becomes the most interesting activity that tourists can do in Karimata Islands. Exploring both big and small islands may satisfy their adventure passion, after all. What they need is a reliable boat service and some money to pay it. What is next? As an alternative, tourists can enjoy water sports like snorkeling and diving. The underwater scenery of Karimata Islands is quite impressive, for sure. It is said more than 40 types of corals reside there! Not to mention tourists can explore and witness them from various depth and difficulty, ranging from 1-10 meters.
The next allure of Karimata Islands is the people who live in it! Most of them live in major islands including Serutu, Karimata, and Maya. When it comes to occupation, the majority of them work as farmers, fishermen, and cattle ranchers. The fact is that tourists can find a historical reminiscence of Sukadana ancestors. It is the gigantic ancient human footprint, printed on a rock. Thus, do not forget to come to the site and take pictures of it. Have no worries. The local guide may help everyone to get to the location efficiently.
It seems tourists have an unlimited option of fun activities when exploring Karimata Islands. For instance, fishing is considered a good alternative. This can be done in small islands, where lots of fishes live. Later, once enjoying lots of activities, tourists can enjoy delicious local seafood and other traditional dishes, especially grilled Patin.
Nearby Attractions
Penebang Island
Karimata Strait
Datok Island
Pelapis Island
Serutu Island
How to Get There
People can either come from Sumatra or Kalimantan Island to get to Karimata. For those who come from Kalimantan, though, their best bet is Ketapang Port in Indonesia. Next, they can simply pay a speedboat service to get to Karimata Port. This may take about 2-3 hours depending on weather and boat quality, actually.
Where to Stay
Tourists can either rent local guesthouses or stay at villagers' house

Latest News
Indonesia is a country of Bhinneka Tunggal Ika, where there are many provinces inhabited by various ethnic groups. Not only the culture and cuisine are different, the traditional house designs of each province are also different. Traditional house designs have their own philosophy and function. It's no wonder that none of the designs are exactly the same, including the West Kalimantan traditional house belonging to the Dayak tribe named Rumah Radakng. Radakng's house is often also referred to as a long house. This term really describes the state of a…
---
Temajuk marks the point where Indonesia ends and Malaysia starts. Not yet known to many domestic and international travellers, Temajuk Village features a tidal beach with soft, white sands dotted with granite rocks. Underwater sightseeing is made possible as the water is clear. Temajuk beach, actually running at a very long 60 km of coastline, is a tidal coast area featuring soft, white sand and preserved environment. One thing that differs this beach from Balinese beaches is portruding granite rocks distributed evenly throughout the coastal environment. In places, granite rocks…
---
Sinka Island Park Singkawang is a small town in the west Kalimantan, but there are many interesting tourism inside the town. One of popular destinations in Singkawang is Sinka Island Park; there is a zoo which has many kind of animals and a recreational park family vacation and playground for children. Sinka Island Park is located in " kelurahan sedau", " kecamatan Singkawang selatan", around 9 km from Singkawang center. To reach this park, from Singkawang center you can go to there by bus, motorcycle, and our personal vehicle. In…
---
Pontianak Pontianak is officially the capital city of West Kalimantan province, the ethnic of Tionghoa call this city as Khun tien. This city is famous as the City of Equatorial for it passed by the earth zero degrees latitude. The name of Pontianak was belived had something to do with the folk tale about Syarif Abdurrahman which was haunted by the ghost of Kuntilanak when he walked along the 1.1 megameter Kapuas River, which is the longest river in Indonesia. Abdurahman Sharif had fired the cannon to drive away the…
---