West Kalimantan Province
---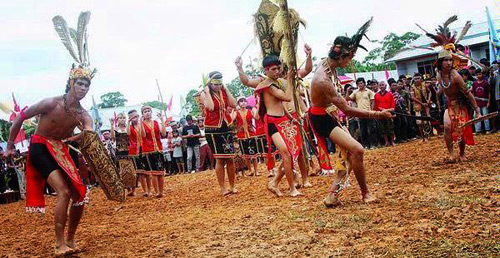 West Kalimantan Province is located in the western part of Borneo island. Based on the specific geographic location, West Kalimantan traversed by the Equator (0 ° latitude) precisely in Pontianak city. Because of this condition, West Kalimantan has become one of the tropical regions with high temperatures and humidity. The other specific characteristics of West Kalimantan region is as one of Indonesia province that is directly adjacent to neighbor country, namely the State of Serawak, East Malaysia. Even with this position, the area of West Kalimantan is the only province in Indonesia that have officially access road to enter and exit to other country. This can happen because between West Kalimantan and Sarawak have an open inter-state road Pontianak - Entikong - Kuching (Sarawak, Malaysia) along about 400 km and can be reached about six to eight hours by car.
Generally, the mainland of the province was low-lying and has hundreds of rivers which are safe navigable, slightly hilly that extend from west to east along the Kapuas valley and Natuna Sea / Strait Karimata. Most of the land is swampy mix with peat and mangrove forests.
This land area is flanked by two mountain ranges, namely, Mountains Kalingkang / Kapuas Hulu in the North and Schwaner Mountains in south side, along the border of Central Kalimantan.
Rivers And Lakes
West Kalimantan commonly dubbed as 'Thousand Rivers Province'. The nickname was aligned with the geographical conditions that have hundreds of large and small rivers which can and often navigable. Several large rivers has become the main line for hinterland transportation, although land road infrastructure have been able to reach to most of the districts.
Lake Sentarum has extensive 117,500 hectare but sometimes nearly dry in the dry season, as well as the Luar Lake, which about 5,400 hectares. Both of these lakes have good potential as a tourist attraction.
The Mountain
Influenced by a vast lowland, the heights of the mountains are relatively low as well as non-active. The highest mountain is Mount Baturaya in Serawai district, Sintang regency which has 2,278 meters height.
Lawit mountain located in Kapuas Hulu, Embaloh Hulu district and first known in West Kalimantan, was only the third highest mountain because it has 1,767 meters high, while the second highest is Mount Batusambung (Ambalau district) with up to 1,770 meters height.
The Islands
Although a small part of West Kalimantan region is the ocean, but West Kalimantan has dozens of large and small islands (mostly uninhabited) which scattered throughout Karimata Strait and Natuna Sea that borders the province of Riau, Sumatra.
The major island such Karimatan Island and Maya Island, Penebangan Island, Bawal Island and Gelam Island in Strait Karimata, Ketapang regency. Other major islands include Laut Island, Betangin Tengah Island, Butung Island, Nyamuk (Mosquito) Island and Karunia Island Pontianak district. Most of these islands, especially in Ketapang district is national park and protected area or conservation.

Latest News
Indonesia is a country of Bhinneka Tunggal Ika, where there are many provinces inhabited by various ethnic groups. Not only the culture and cuisine are different, the traditional house designs of each province are also different. Traditional house designs have their own philosophy and function. It's no wonder that none of the designs are exactly the same, including the West Kalimantan traditional house belonging to the Dayak tribe named Rumah Radakng. Radakng's house is often also referred to as a long house. This term really describes the state of a…
---
Temajuk marks the point where Indonesia ends and Malaysia starts. Not yet known to many domestic and international travellers, Temajuk Village features a tidal beach with soft, white sands dotted with granite rocks. Underwater sightseeing is made possible as the water is clear. Temajuk beach, actually running at a very long 60 km of coastline, is a tidal coast area featuring soft, white sand and preserved environment. One thing that differs this beach from Balinese beaches is portruding granite rocks distributed evenly throughout the coastal environment. In places, granite rocks…
---
Sinka Island Park Singkawang is a small town in the west Kalimantan, but there are many interesting tourism inside the town. One of popular destinations in Singkawang is Sinka Island Park; there is a zoo which has many kind of animals and a recreational park family vacation and playground for children. Sinka Island Park is located in " kelurahan sedau", " kecamatan Singkawang selatan", around 9 km from Singkawang center. To reach this park, from Singkawang center you can go to there by bus, motorcycle, and our personal vehicle. In…
---
Pontianak Pontianak is officially the capital city of West Kalimantan province, the ethnic of Tionghoa call this city as Khun tien. This city is famous as the City of Equatorial for it passed by the earth zero degrees latitude. The name of Pontianak was belived had something to do with the folk tale about Syarif Abdurrahman which was haunted by the ghost of Kuntilanak when he walked along the 1.1 megameter Kapuas River, which is the longest river in Indonesia. Abdurahman Sharif had fired the cannon to drive away the…
---