Mangrove Forest in North Kayong Regency, Indonesia
---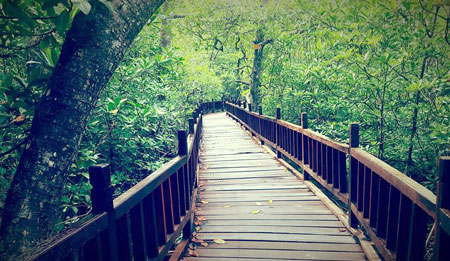 During a visit to West Kalimantan, tourists should consider a famous vacation destination called Kelam Hill. The location is in Kebong Village and it belongs to Kelam Permai Sub-District in Indonesia. Also, in terms of region, it is part of Sintang Regency. Despite the name, the locals also consider it a mountain actually. So, why is the name? "Kelam" means dark. It derives from the appearance of the mountain, which looks dull and burnt. Due to such unique appearance, therefore, tourists are interested to take pictures of the mountain as well as to explore the site with friends.
The Nuance
In terms of size, Kelam Hill is definitely grandiose. In fact, it is considered the largest rock mountain in the world. It resides on 900 meters above the sea level and has the height of about 3250 feet! Not to mention the mountain is located between Kapuas and Melawi River. The major feature of the hill is a dense forest and it becomes the home of various plants and animals. According to the locals, more than 13 species of Nepenthes grow there. The thing is tourists should reach the height of about 500-750 meters above the sea level to see such unique tropical plants.
Exploring Kelam Hill
An adventure in Kelam Hill sounds challenging and fun, doesn't it? Not only it is suitable for nature lovers, common tourists can definitely enjoy it. As mentioned before, the most interesting allure of the hill is "kantung semar" or nepenthes. Once again, it takes some efforts to see them as most of them grow in secluded spots. Aside from these plants, visitors may encounter other plants and even animals there. These include black orchids, honey bears, swifts, pangolins, and much more!
Those who visit Kelam Hill should know its history as well. For example, the first man who conquered the mountain was Gurtler. He reached the peak in the 1800s, actually. Well, visitors can get more information from local guides or those who live near to the mountain too. What is more? Do not forget to hear a myth regarding the hill! It is said such giant black mountain was once a rock used by Bujang Beji (a mythical character) to prevent Marubai (his rival) from getting more fishes during the competition. Another interesting story is that the mountain came from the sky!
With such various attractions, Kelam Hill indeed gets a better popularity over time. The total size is about 520 hectares and it features numerous natural attractions as well. These include waterfalls, forests, temples, caves, and religious sites! No wonder, it becomes crowded especially during weekends and holidays.
Nearby Attractions
Rentap Hill
Beji Monument
Baning Forest Park
Almukarimah Palace
How to Get There
For those coming from Pontianak City, Indonesia, they can take local transportation service and head to Sintang Regency. The next destination is Kelam Permai Sub-District and tourists should visit Kebong Village afterward. The last thing to do is trekking to the mountain! The whole trip may take about 7 hours and 30 minutes, as the distance is 339 km. For a faster trip, tourists can use Lintas Kalimantan Poros Tengah Street actually.
Where to Stay
Mitra Kapuas Hotel
Cika Hotel
Ladja Hotel
Walet Inn

Latest News
Indonesia is a country of Bhinneka Tunggal Ika, where there are many provinces inhabited by various ethnic groups. Not only the culture and cuisine are different, the traditional house designs of each province are also different. Traditional house designs have their own philosophy and function. It's no wonder that none of the designs are exactly the same, including the West Kalimantan traditional house belonging to the Dayak tribe named Rumah Radakng. Radakng's house is often also referred to as a long house. This term really describes the state of a…
---
Temajuk marks the point where Indonesia ends and Malaysia starts. Not yet known to many domestic and international travellers, Temajuk Village features a tidal beach with soft, white sands dotted with granite rocks. Underwater sightseeing is made possible as the water is clear. Temajuk beach, actually running at a very long 60 km of coastline, is a tidal coast area featuring soft, white sand and preserved environment. One thing that differs this beach from Balinese beaches is portruding granite rocks distributed evenly throughout the coastal environment. In places, granite rocks…
---
Sinka Island Park Singkawang is a small town in the west Kalimantan, but there are many interesting tourism inside the town. One of popular destinations in Singkawang is Sinka Island Park; there is a zoo which has many kind of animals and a recreational park family vacation and playground for children. Sinka Island Park is located in " kelurahan sedau", " kecamatan Singkawang selatan", around 9 km from Singkawang center. To reach this park, from Singkawang center you can go to there by bus, motorcycle, and our personal vehicle. In…
---
Pontianak Pontianak is officially the capital city of West Kalimantan province, the ethnic of Tionghoa call this city as Khun tien. This city is famous as the City of Equatorial for it passed by the earth zero degrees latitude. The name of Pontianak was belived had something to do with the folk tale about Syarif Abdurrahman which was haunted by the ghost of Kuntilanak when he walked along the 1.1 megameter Kapuas River, which is the longest river in Indonesia. Abdurahman Sharif had fired the cannon to drive away the…
---