Pelapis Island in Karimata Islands, Indonesia
---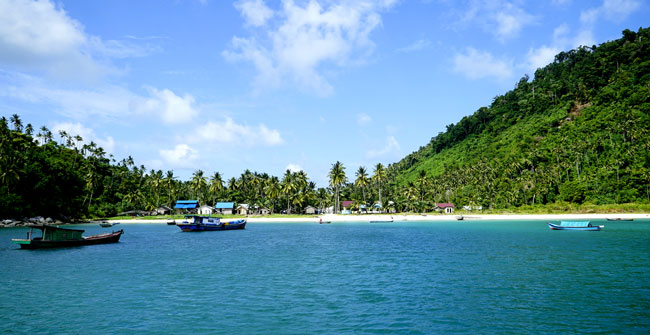 It is, without a doubt, Karimata Archipelago becomes the main tourist attraction in West Kalimantan Province. It even gives many options of islands for tourists to explore. One of the small islands is called Pelapis and it becomes a nice place to get close to nature without feeling secluded at all. Thanks to villagers. Tourists can get ample facilities and accommodations when exploring the island. Not to mention visitors can do lots of activities including photography, trekking, swimming, etc. The most recommended activity perhaps is to approach villagers and watch their daily routines!
The Nuance
Despite the small size, Pelapis is an inhabited island. It even becomes the home of several villages, so visitors may see the locals during the visit. These people live near to the sea and most of them work as a fisherman too. The rest of them work as a farmer, though. With such various local activities, tourists can watch, take pictures, or even join them! What about the nuance? Most parts of the island are covered by dense trees, so it offers an opportunity for exploration and trekking. It even features several hills!
Exploring Pelapis Island
Once arriving at Pelapis Island, the most recommended thing to do is to approach villagers. This should be done after getting a place to stay, though. So, what about the villagers? The locals are friendly and they often offer free foods to outsiders as well. Not to mention tourists can watch unique activities done by the locals in their daily life. These include farming and fishing, actually. The thing is only a few of people work as farmer due to the fact that Pelapis Island doesn't feature many fertile soils.
In terms of agriculture, the island is famous for cloves! It is, in fact, one of the most famous spices of the nation and has become the pride of the island. During the visit, tourists can even smell the fragrance of such spice right away. It is because the locals are sunning them in front of their house. What a unique view, no? Have no worries. Tourists are allowed to buy some as souvenirs later.
The next thing to do in Pelapis Island is to explore its beauty. Thanks to the pristine nature. The island features numerous natural attractions including mangroves and palm trees, which look soothing and shady. Later, before going back to North Kayong Regency, tourists should drop by at Penebang Island (which is the part of Pelapis). It is a nice destination for relaxation, for sure. Do not forget to carry extra cash to pay the boat services, though.
Nearby Attractions
Penebang Island
Karimata Strait
Datok Island
Serutu Island
How to Get There
The trip starts at Ketapang Port in West Kalimantan Province. Once getting a boat service, tourists can direct head to Karimata Port and find another boat service to reach Pelapis Island.  Here is the fact. The whole trip may take about 8 hours, so tourists should prepare both supplies and stamina before going.
Where to Stay
No hotels are available on this island..