Oesman Al-Khair Grand Mosque in Sukadana Sub-District, North Kayong - Indonesia
---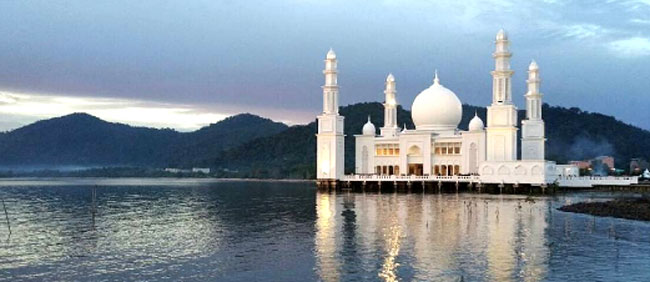 Being the part of West Kalimantan Province, North Kayong Regency offers distinct tourism experience to everyone. For instance, tourists can visit a beautiful mosque in Sukadana Sub-District called Oesman Al-Khair. The mosque resides in Kota Karang Street and it belongs to Sutera Village, actually. The building is considered new as it was erected in 2012. It is true that the main function of this majestic mosque is to accommodate Moslems regarding a place for worshipping. However, these days, tourists are interested in visiting the site in order to take pictures and sightseeing. Thanks to such unique structure.
The Nuance
Another name is "Masjid Terapung" or the Floating Mosque. It is because the structure is built on sea level. It has the color of white and features glamorous lights! No wonder, the mosque looks so mesmerizing at night. In terms of size, it has the width of 50 x 50 meters and it is able to accommodate approximately 3000 people. The best thing is that the mosque has a decent architecture, adapting an Arabian architecture style. Both interior and exterior resemble that of Morocco's mosques actually. Inside, tourists may see beautiful calligraphy as well.
Exploring Oesman Al-Khair Grand Mosque
The most common reason why tourists are interested in Oesman Al-Khair Mosque is to witness the architecture of the building. These people are impressed by 9 domes that beautify the mosque. The prime dome has is the biggest and it represents Mohammad the prophet. This grand dome is surrounded by 4 smaller domes, representing the prophet's comrades. Other 4 smaller domes surrounded them, representing four different sects. In a whole, these 9 domes represent Wali Songo (the most famous propagators of Islam in Indonesia).
It is recommended to visit Oesman Al-Khair Grand Mosque with a local guide, so he can tell complete information regarding the building. He may explain why the mosque is built on the surface of the water as well. So, why is that? The purpose is none other than to symbolize the local culture, which is dominated by a fishermen community. It also represents bravery and the urge to look for improvements! For local people, the mosque becomes a significant place for worshipping and an important landmark of the region for sure. For tourists, the mosque becomes another destination during a vacation in North Kayong!
Aside from learning the history and meaning of Oesman Al-Khair Mosque, tourists are allowed to explore the building and take some pictures there. The only consideration is that they must come at the right time (when there are no worshippers). Also, it is important not to cause havoc and spoil the environment.
Nearby Attractions
Datok Island
Riau's King Tomb
Genta Hill
Bali Village
Air Paoh Natural Spring
Pasir Mayang Beach
Gunung Palung National Park
Durian Monument
Pulau Datok Beach
Tambak Rawang Beach
How to Get There
Tourists have many ways to get to Oesman Al-Khair Grand Mosque. For example, it takes about 2 hours from Rahadi Airport as the distance is 80 km. For those coming from Pontianak City, though, the trip may take around 9 hours and 20 minutes. It can be faster if they take Ahmad Yani Street.
Where to Stay
Aulia Inn
Kapuas Kayong Inn
Anugrah Hotel
Mahkota Hotel

Latest News
Indonesia is a country of Bhinneka Tunggal Ika, where there are many provinces inhabited by various ethnic groups. Not only the culture and cuisine are different, the traditional house designs of each province are also different. Traditional house designs have their own philosophy and function. It's no wonder that none of the designs are exactly the same, including the West Kalimantan traditional house belonging to the Dayak tribe named Rumah Radakng. Radakng's house is often also referred to as a long house. This term really describes the state of a…
---
Temajuk marks the point where Indonesia ends and Malaysia starts. Not yet known to many domestic and international travellers, Temajuk Village features a tidal beach with soft, white sands dotted with granite rocks. Underwater sightseeing is made possible as the water is clear. Temajuk beach, actually running at a very long 60 km of coastline, is a tidal coast area featuring soft, white sand and preserved environment. One thing that differs this beach from Balinese beaches is portruding granite rocks distributed evenly throughout the coastal environment. In places, granite rocks…
---
Sinka Island Park Singkawang is a small town in the west Kalimantan, but there are many interesting tourism inside the town. One of popular destinations in Singkawang is Sinka Island Park; there is a zoo which has many kind of animals and a recreational park family vacation and playground for children. Sinka Island Park is located in " kelurahan sedau", " kecamatan Singkawang selatan", around 9 km from Singkawang center. To reach this park, from Singkawang center you can go to there by bus, motorcycle, and our personal vehicle. In…
---
Pontianak Pontianak is officially the capital city of West Kalimantan province, the ethnic of Tionghoa call this city as Khun tien. This city is famous as the City of Equatorial for it passed by the earth zero degrees latitude. The name of Pontianak was belived had something to do with the folk tale about Syarif Abdurrahman which was haunted by the ghost of Kuntilanak when he walked along the 1.1 megameter Kapuas River, which is the longest river in Indonesia. Abdurahman Sharif had fired the cannon to drive away the…
---