Hotels In West Kalimantan
---
Transera Hotel Pontianak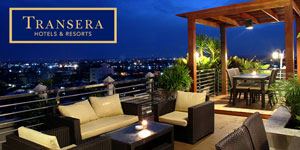 This modern hotel in the Central Business District is 2.1 kilometers from both Museum Negeri Pontianak and Masjid Raya Mujahidin mosque, and 10 kilometers from The Equator monument. Colorful rooms with vibrant wall murals feature free Wi-Fi, flat-screen TVs, and tea and coffee making facilities. Some have balconies, while upgraded rooms add sitting areas and/or minibars. Room service is available. Transera Hotel Pontianak features a rooftop restaurant, spa and cafe. Its rooms offer modern interiors and air conditioning.
Jl. Gajah Mada No.21, Benua Melayu Darat
Pontianak, West Kalimantan 78121
Phone: +62 815 45501315
Web: transerahotels.com
Grand Mahkota Hotel Pontianak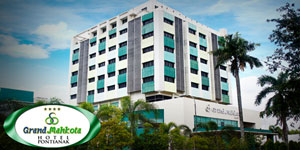 This modern hotel is 3 kilometers from Masjid Raya Mujahidin (a mosque), a 7-minute walk from Taman Alun Kapuas park, and 12 kilometers from The Equator monument, which marks the division between the northern and southern hemispheres. Contemporary rooms provide flat-screen TVs, minifridges and safes, along with tea and coffeemakers. Room service is available 24/7. There's a casual coffee shop, a bar and a lobby lounge with a grand piano. Other amenities include a ballroom, a beauty salon and karaoke rooms.
Jl. Sidas No. 8
Pontianak, West Kalimantan 78243
Indonesia
Phone: +62 561 736022
Gardenia Resort and Spa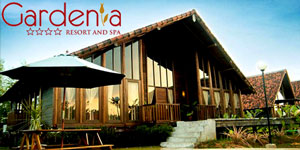 Amid lush gardens, this rustic-chic resort with a water park occupies both a Kalimantan-style villa on wooden stilts and quaint lodges. It's 4.3 kilometers from Supadio International Airport and 16 kilometers from downtown Pontianak. A luxurious private Villa with an elegant and traditional feel-on wooden stilts just like an authentic Kalimantan House, complete with a raised walkaway - awaits you with serene atmosphere and gorgeous views of the surrounding gardens.
Jl. Ahmad Yani 2, Arang Limbung, Sungai Raya
Kubu Raya, West Kalimantan 78391
Indonesia
Phone: +62 561 6726446
Web: gardeniaresortandspa.com
Borneo Emerald Hotel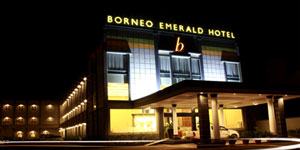 The perfect choice for travelers with a business, leisure, or a more permanent stay in the city. Its close enough from the Rahadi Oesman Airport (15 minutes). Boreneo Emerald Hotel can provide airport pick up and drop off to ensure you are taken care of completely. Business Travelers within the city will find Borneo Emerald Hotel a fresh new spot for meetings and events. Multiple varieties of meeting rooms are available with high speed WiFi, Restaurant, Pub & Karaoke, as well as an spa to enjoy. Families who are looking for a quiet and comfortable home in Ketapang may look no further.
Jl. Dr. Sutomo No. 68, Mulia Baru, Delta Pawan
Ketapang, West Kalimantan 78821
Indonesia
Phone: +62 534 32222
Web: borneoemerald.com

Latest News
Indonesia is a country of Bhinneka Tunggal Ika, where there are many provinces inhabited by various ethnic groups. Not only the culture and cuisine are different, the traditional house designs of each province are also different. Traditional house designs have their own philosophy and function. It's no wonder that none of the designs are exactly the same, including the West Kalimantan traditional house belonging to the Dayak tribe named Rumah Radakng. Radakng's house is often also referred to as a long house. This term really describes the state of a…
---
Temajuk marks the point where Indonesia ends and Malaysia starts. Not yet known to many domestic and international travellers, Temajuk Village features a tidal beach with soft, white sands dotted with granite rocks. Underwater sightseeing is made possible as the water is clear. Temajuk beach, actually running at a very long 60 km of coastline, is a tidal coast area featuring soft, white sand and preserved environment. One thing that differs this beach from Balinese beaches is portruding granite rocks distributed evenly throughout the coastal environment. In places, granite rocks…
---
Sinka Island Park Singkawang is a small town in the west Kalimantan, but there are many interesting tourism inside the town. One of popular destinations in Singkawang is Sinka Island Park; there is a zoo which has many kind of animals and a recreational park family vacation and playground for children. Sinka Island Park is located in " kelurahan sedau", " kecamatan Singkawang selatan", around 9 km from Singkawang center. To reach this park, from Singkawang center you can go to there by bus, motorcycle, and our personal vehicle. In…
---
Pontianak Pontianak is officially the capital city of West Kalimantan province, the ethnic of Tionghoa call this city as Khun tien. This city is famous as the City of Equatorial for it passed by the earth zero degrees latitude. The name of Pontianak was belived had something to do with the folk tale about Syarif Abdurrahman which was haunted by the ghost of Kuntilanak when he walked along the 1.1 megameter Kapuas River, which is the longest river in Indonesia. Abdurahman Sharif had fired the cannon to drive away the…
---